Can Prefabricated Shower Pods be Used in Temporary Buildings?
Posted by Michael Kiernan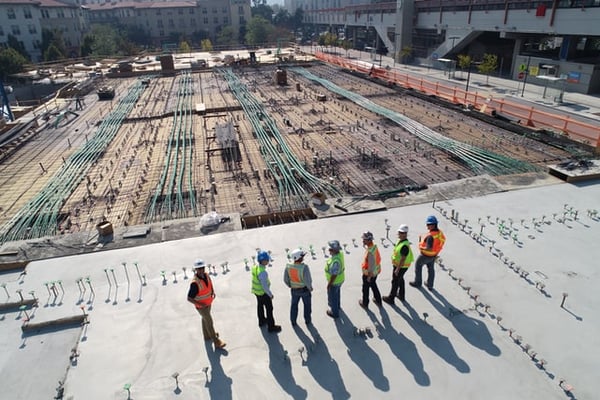 Even in temporary buildings – such as accommodation and offices on construction sites, shower rooms may be necessary. Shower pods are the perfect shower room option in temporary structures since they don't require tiles, mortar and bricks, or complicated drainage systems. In both permanent and temporary buildings, they will help prevent leaks, making them perfect to use and easy to maintain.
Fast and Cheap Installation
The ease of installing a prefabricated shower pod makes it a good choice for a temporary building. They are not only easy to install but also take less time, helping you get the temporary building operational in minimal time so you can focus on the main project. Installing a tile shower in a temporary structure will take a lot of time and give you extra headaches when removing it – and a temporary shower block can be expensive to hire and maintain. On the other hand, a shower pod can be installed quickly, even in confined spaces (such as converted shipping containers or pre-fab modular buildings), and can easily be removed when the building is dismantled.

Excellent Hygiene
Shower pods are very hygienic since they are watertight and leak-proof. In addition, they don't require any maintenance, which is good news for both facilitators and their clients. A traditional tile shower will require a lot of maintenance, especially in buildings with limited ventilation. For this reason, they cannot usually be used in a temporary building.
Robust and S
ustainable
Our shower pods are made from GRP materials which are resistant to wear and tear. Even in a temporary building, these shower pods will give you and your clients a good service. As a project manager or constructor, you want to satisfy your clients, provide the highest levels of convenience and comfort to your workforce, and minimise risks. A shower pod will be perfect for your temporary building since you will be dealing with only one tradesperson during installation – leaving fewer opportunities for delay.
It isn't sustainable or logical to use a lot of money installing a traditional shower in a temporary building and then remove it. That's why a shower pod is the ideal solution for temporary buildings because they are easy to install and very cost-effective. They will give your client excellent reliability at minimal cost.
Space Utilisation
For a temporary building, you want to maximise living and working space. Building a traditional tile shower, or hiring a portable shower block, will consume a lot of space onsite. On the other hand, a shower pod will take less space even when you need multiple shower rooms.
Long Term Value For Money
Even with regular, long term use, our shower pods have a long service life, since they are made from sustainable and corrosion-resistant materials. Fast to install and take down, they can easily be moved from project to project without incurring additional expense. Traditional tile showers, on the other hand, are prone to leaks and damage, and are difficult to reuse after the temporary building is dismantled.
A Pleasure to Use
The gloss finish in our shower pods makes them very attractive and accessible to users, increasing morale and productivity among employees on a project. Even in a temporary building, you want an appealing structure to make the building more attractive. The product comes in a wide variety of shapes and sizes to suit the space available in your temporary building.
Find Out More
A prefabricated shower pod is an ideal solution in a temporary building. The installation process is easy and takes less time compared to alternative showering solutions. To find out more about how our shower pods fit in with your temporary accommodation needs, give one of our team a call today.
See More News