January 2021 Sale - Big Discounts on Our 750DX Shower Pod Series
Posted by Michael Kiernan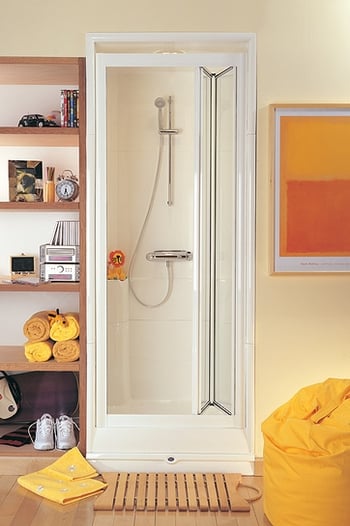 We're excited to announce big discounts on our 750DX shower pods as part of our Advanced Showers January sale. If you're looking to buy a compact yet roomy durable shower pod ideal for enclosed bathrooms, now is an excellent time to enquire about our surplus stock. The 750DX shower pod is ideal for multiple residency buildings, including student halls of residence, short term rentals, and private apartments.

Due to a bulk university order unfortunately cancelled during the COVID-19 lockdown, we currently have a number of pre-built 750DX shower pods, warehoused and ready to install. There's no need to wait for manufacturing turnaround. Our 750DX pods are ready to dispatch.
The 750DX - Compact, Flexible, Durable
The 750DX is a mid-sized compact shower pod, built to the same high-gloss, high-durability standards as all of our models. With a compact 885x830mm footprint, it'll fit easily into almost any space.

A wide range of shower mixer valve configurations will allow you to adapt your chosen showerhead to the build. It's quick to install, too - each 750DX can be up and running in under a day.

The 750DX also comes with optional leg elevation base mountings and two different door configurations. Bi-fold and pivot options allow you to adapt the 750DX to better fit and protect whatever space you chose to install it in. Our top access waste & trap also help to make the unit easy to use, clean, and repair.

We pride ourselves on our zero-maintenance designs. Once in place, the 750DX will require little further attention other than routine cleaning. It'll be years before you'll have to consider replacing the shower pod.

We'd would like to remind customers that this a strictly time-limited offer - when our excess stock of 750DX units are gone, they're gone! Orders will be honoured on a first-come, first-served basis.
Shower Pods from Advanced Showers
As well as the 750DX, we supply shower pod bulk orders, custom installations, and pre-built units to fit any size and shape. They're ideal for smaller properties with limited space, student and temporary accommodation, and single-bed flats. Call or email Advanced Showers today to place an order - or download our Shower Pods Guide for more information.
See More News