Low Maintenance Showering Solutions For Housebuilders
Posted by Kevin Taylor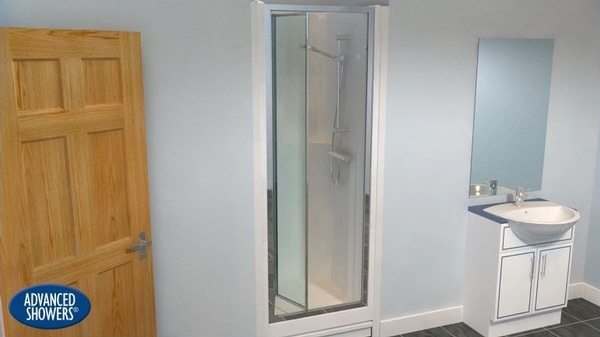 Two primary considerations for builders and property developers are build project cost control and post-sale warranty maintenance costs. Shower pods deliver the perfect solution on both counts and also offer high end options to impart a luxury feel when required.
Control Over Build Costs
Advanced Shower pods are manufactured in our Coventry factory and delivered on-site in two, three or four horizontal sections. That means they can easily be carried through doorways and along corridors, upstairs and so on. Assembly takes just a couple of hours and can be carried out by just one tradesman. That's it.
Contrast that with the labour costs and various trades required to construct conventional tile and tray showers. Engaging multiple trades ramps up the risk of delays and the consequential knock-on effect, not to mention the additional management overhead required to coordinate everybody as well as materials.
Control Over Ongoing Maintenance Costs
Leakproof showers are a godsend given the number of failures that are inevitable with tile and tray showers. It's not only the damage and cost of remediation but also the reputational cost to the development. Bad news travels at the speed of lightning.
Shower pods are built to last. The durable reinforced polymer material has a lifespan of 60 years. The attractive high gloss finish does not fade or wear off no matter how much usage it gets. Performance and colour never diminishes over the years.
There are no joints through which water can seep.
The common causes of shower leaks are recognised as:
Cracked shower tray
Grout or mastic is too soft, or cracks with age and falls off, allowing water behind the tiles
Waterproof membranes can easily tear when a new build settles or a stud partition experiences movement
There are many more causes, of course, and all of them involve consequential costs for repair.
Why Shower Pods Do Not Leak
The shower pod sections interlock through leakproof pressure gaskets, so there is no need for grout or silicon sealants. The floors are integrated with the wall, leaving no opportunity for water to seep out.
Not Just Functional But Very Attractive Too
Take a look at our range of shower pod models. The larger high end models lend themselves to the luxury end of the housing market. We know that the kitchen and bathroom are the two spaces that deliver the overarching impression of a property. Adding a luxury touch with an en-suite or family bathroom top end corner shower pod or alcove model ticks that box.
Shower pods add value too in that there is practically zero maintenance required for the homeowner. No black mould will ever appear on grout, for example, and all that is required to keep them clean and sparkling is a quick wipe down. No fuss, no leaks and no maintenance.
Choosing Shower Pods Over Tile & Tray Has Worthwhile Benefits:
1) They deliver superior value for money compared with tile and tray showers, so you obtain better ROI from your material costs.
2) The quality of a shower pod far exceeds that of a conventional shower, which means fewer customer service issues and zero product recalls.
3) Delivery and installation of a shower pod is very fast, which is perfect for tight construction schedules, totally avoiding any need for extra labour and materials.
A shower pod really is a 'fit and forget' option. Fast and easy installation is backed by a guarantee to remain leak proof and easy to clean for many years!
Find Out More
You are welcome to download our free eBook The Home Builder's Guide To Shower Pods which provides a lot more information about why shower pods from Advanced Showers are truly the perfect low maintenance option for house builders.
See More News