What Advantages Do Self-Contained Shower Pods Offer?
Posted by Kevin Taylor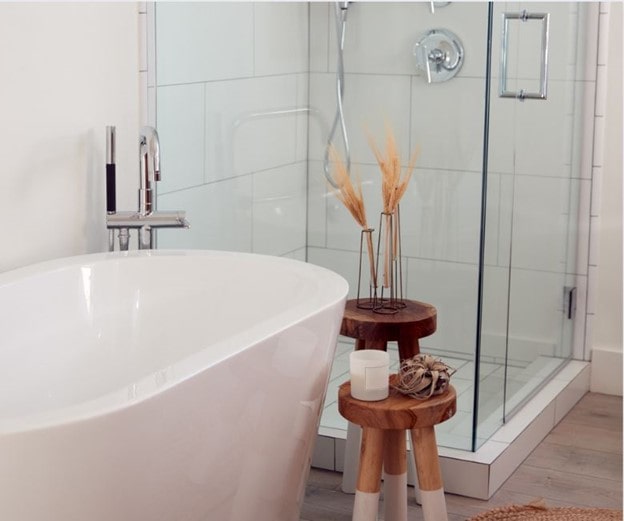 When it comes to designing a bathroom, the shower is often a key feature that homeowners want to get just right. A popular trend in recent years among residential property developers has therefore been self-contained shower pods, which offer a range of benefits compared to the traditional 'shower over a bath'. In this article, we will explore the advantages of self-contained shower pods - from being space-saving and stylish, to low maintenance with reduced risk of water damage.

1. Perfect For Compact Spaces
Perhaps the most significant advantage of self-contained shower pods for property developers and homeowners is that they take up less space than traditional bathrooms and tile and tray showers. In smaller bathrooms or where space is at a premium, the self-contained shower pod is a perfect space-saving solution in new build properties. Self-contained shower pods usually feature a compact and efficient design that can fit into corners or spaces without requiring extra room. This also means you can have the luxury of a standalone shower enclosure without having to sacrifice too much space in your bathroom.
2. Easy To Install
Compared to traditional tile and tray showers, self-contained shower pods are relatively easy and fast to install. They come as a complete modular unit, which means that they require less time and effort to install than traditional showers that need tiling and plumbing work – often involving multiple contractors on site. In most cases, self-contained shower pods can be installed in a few hours, reducing the inconvenience and mess that's usually associated with traditional shower installation.
3. Low Maintenance
Another appealing feature of self-contained shower pods for end users and rental landlords is that they are low maintenance. The need for regular cleaning is significantly reduced as self-contained shower pods are made from materials that are easy to clean and do not require grouting or sealing. As such, they look great and last longer without as much need for care and maintenance.
4. Stylish And Contemporary
Self-contained shower pods come in a variety of styles and designs that can complement different bathroom decor styles and property types, from sumptuous detached new builds to contemporary student accommodation. They offer a perfect blend of style and functionality, allowing you to create a stylish and modern bathroom space tailored to the needs of your market. Whether you are after a contemporary or classic look, there is a self-contained shower pod design that can meet your needs.
5. Reduced Risk Of Water Damage
One common issue with traditional showers is that water damage can result from splashing and leaks. Self-contained shower pods, on the other hand, are fully enclosed, so there is less chance of water splashing onto the surrounding area and less risk of long-term damage from ambient moisture and leaks. This makes them ideal for homes with children and teenagers where there may be splashing and spills during extended shower times.
Modern Shower Pods From Advanced Showers
Check out this blog post to find out more about the advantages of our Advanced Showers shower pod range. You can also claim a free copy of our Shower Pods Guide by clicking here.
Image Source: Canva
See More News