Pros And Cons Of 'Green' Shower Cleaning Products
Posted by Kevin Taylor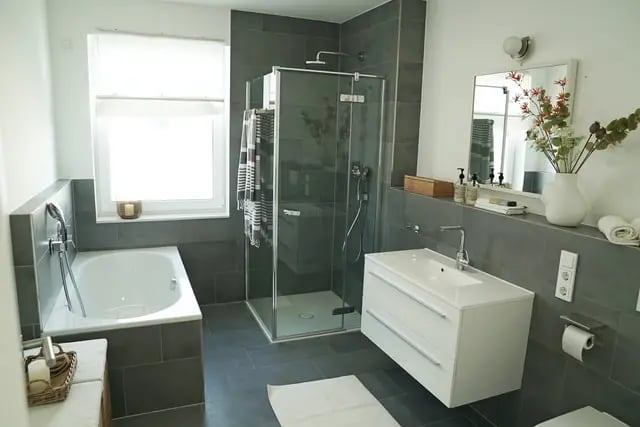 All over the world, consumers are becoming more aware of the environmental impact of their choices and lifestyle. For example, we now know that some cleaning products contain toxic ingredients that pose health hazards.
Green cleaning products have been touted as a safer and more environmentally friendly alternative, but not all green-labelled products are necessarily friendlier to the environment.

In this article we discuss the pros and cons of using green shower cleaning products, so you can make an informed decision.
What Is Classed As An Eco-Friendly Cleaning Product?

Nowadays, there's an entire market for green, natural, and eco-friendly cleaning products. However, these labels aren't regulated, so their meaning isn't standardised.

In the UK, the only label that must comply with certification standards involves organic products. You may also come across cleaning products with the European Ecolabel, which certifies that a product has a 'reduced environmental impact' – although this itself is not tightly defined, nor is it specified in which ways harm is reduced.

Outside of these two cases, manufacturers can make their own "green" claims without needing to be certified and without specifying how exactly their products are eco-friendly.

This means that you have to use your judgement in deciding whether a product is really eco-friendly along the following dimensions:
Whether it contains toxic ingredients.
Whether the ingredients come from natural or sustainable sources.
Whether the product is biodegradable, including the packaging.
Whether the manufacturer participates in environmental protection schemes or initiatives.
Some commercial eco shower cleaning products do meet these criteria, but there are still pros and cons you need to be aware of.
The Pros Of Using Eco-Friendly Shower Cleaning Products
Reduced exposure to harmful ingredients.
A healthier option in households with children, pets, or where people have allergies.
Some of these products are more effective than commercial cleaners – if they're

good enough to be used in oil spill remediation

, they can keep your shower clean too!
They help minimise your carbon footprint.
The Cons Of Using Eco-Friendly Shower Cleaning Products
They can be more expensive than commercial cleaners, unless you can refill them or make your own.
If you go down the DIY route, you'll have to spend some time making your products – and not all homemade cleaning components are particularly 'green'.
They may not work as well in heavy duty shower cleaning jobs, meaning you use more product to achieve the same results.
They may not fully eliminate harmful pathogens, fungi spores, and mould.
Despite the downsides outlined above, green shower cleaning products may be the right choice in certain residential settings, such as schools, student accommodation, hotels, or care homes, but we advise readers to approach any 'green' claims with a sceptical eye, at least until there is more standardisation across the market.
Next Steps
Advanced Showers manufactures modular shower pods that can be installed without mastic or grout in order to make cleaning and maintenance hassle free. To find out more, download our free Shower Pods Guide, or call today on 01483 532020.
Image source: Unsplash
See More News