The Time To Start Using Sectional Shower Pods Is Now!
Posted by Kevin Taylor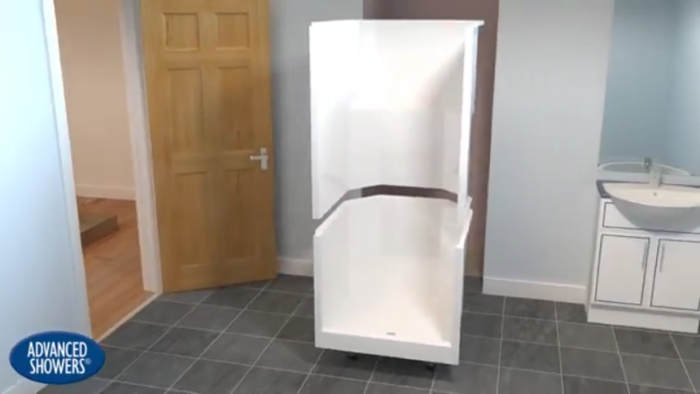 Although February is now upon us, it is not too late to make a New Year's resolution for 2018. Along with many leading universities and residential schools across the country, this resolution could be to spend less money on maintenance and repairs by switching over to shower pods from tile and tray showers.
What Are Sectional Shower Pods?
Modular, or sectional shower pods are robust shower cubicles with integral trays, which are manufactured in 2-4 sections off-site and can be installed in any alcove in a matter of hours. Many of the problems with traditional tile and tray showers are negated, making it extremely beneficial to make the switch. With minimal maintenance requirements and almost no leaks, shower pods save university estates thousands of pounds each year. You may also have heard of seamless shower pods, which use a similar concept but are constructed of a single piece rather than several modules. In our opinion, modular construction is more convenient for universities/schools as the shower pods take up less space on site and are easier to manoeuvre into position around corridors, stairs etc.
Why Should I Start Using Shower Pods?
If you've ever had tile and tray showers installed in your student accommodation, you'll know the frustration that comes with broken tiles, re-grouting, mould and leaks. One broken tile and suddenly the entire shower seems nearly unusable, and even the best maintained tile and tray showers need to have their tray replaced every 3 to 5 years. However, shower pods don't have this issue because they don't use tiles and separate trays during construction. No tiles means no grout or mastic. This is another plus because grout tends to discolour easily and is extremely difficult to maintain.
Our high gloss reinforced polymer plastic shower pods are:
Easy to clean
Quick to assemble
Simple to maintain
Having a shower that is easy to clean and maintain is something that can be incredibly beneficial to organisations looking to reduce their ongoing facilities management budget.
How Can Shower Pods Reduce Budget Costs?
Tile and tray showers, which are often installed due to the inexpensive upfront cost, take time and money to maintain over the long term. If your shower is older than a few years, repair bills are likely to mount up.
However, due to the revolutionary design of our shower pods, they can be maintained without much effort. This frees up your budget, allowing you to deploy resources elsewhere. On top of this, shower pods are built to be leak-proof. Repairing leaks on showers is costly, especially in a residential setting, such as a university campus. However, this can be avoided by using shower pods in place of tile and tray showers.
You could also be concerned about the guarantee or what happens in the very unlikely event that your brand new shower pod breaks. We offer a full parts warranty, just for that extra piece of mind. On top of this, our after sales support is stellar. This means that, if you have problems with a shower pod, it is extremely simple to get a resolution. You won't be sent running in circles.
Take Steps To Reduce Your Shower Maintenance Budget
f you're looking to cut down your budget or improve a building's reliability, a shower pod could be the way to go. Not only are they leakproof but they are also extremely versatile. Regardless of the project, you will be able to find a shower pod to fit your needs even if this means getting one custom made for you.
Find Out More
Want to know more about why to make the switch to shower pods this year? Our free Ebook: The Shower Pods Guide includes everything you need to know about shower pod costs, installation and maintenance. It's free, and it will help you make an informed decision on your shower pod type.
See More News