10 Year NHBC Cover Against Structural Damage
Posted by Kevin Taylor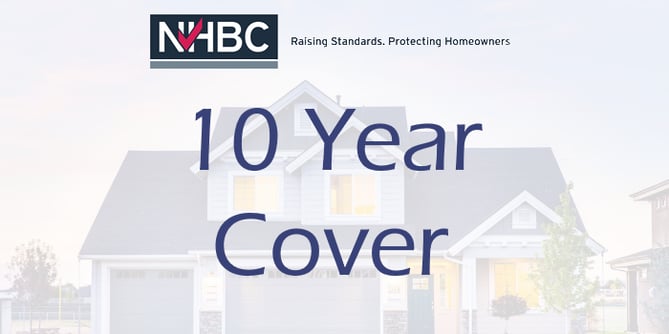 NHBC cover can be extremely useful when buying a new house, especially when a new shower is included in that. NHBC cover includes structural damage for 10 years, something that shouldn't happen anyway during that time. This means that the cost of fixing any damage caused by faults such as weatherproofing are covered. Within the first 2 years, you also have added coverage if something goes wrong with a shower tray. NHBC cover can also be applied to one of our seamless shower pods, applicable for homeowners, developers or landlords.
What is NHBC Cover?
NHBC Buildmark is a specific insurance policy which covers a property against specific risks that would otherwise be extremely expensive to fix. It can cover things such as contaminated land, in the off chance that you receive a statutory notice about the condition of your land and also covers building regulations. During the first 2 years of NHBC cover, if a builder has failed to meet requirements they are required to put this right.
How Long Are Internal Fixtures Covered For?
After the build is completed, internal fixtures are covered for 2 years. All internal fixtures are included in this, such as shower units. However, leaking showers can do untold amounts of damage to your building if not fixed in time. This can include untold structural damage, which can be extremely expensive to fix if not caught in time. Insured or not, the risk of leaks is one of the main reasons why many developers are switching to shower pods away from tile and try showers – as our seamless modular units are essentially leak free.
After 2 Years
After 2 years, your internal fixtures are no longer covered by NHBC. This means that any leaks you may get in your shower are yours and yours alone to fix. Because of this, avoiding a leaking shower is paramount to avoiding damage to the house. But, how do you avoid such a common and widespread problem, and one that seemingly happens on its own?
Shower pods are a great option if you're looking to avoid the common issues that come with tile and tray showers, especially as shower pods make it a lot easier to maintain your showers.
Why Consider Shower Pods?
As shower pods are leak proof, there is no risk of a broken shower tray causing a ceiling destroying leak. This, inevitably, is a lot better than the alternatives. On top of this, we at Advanced Showers are also extremely keen to fix any issues you may have with our products, although we sincerely hope that you don't have any. On top of this, shower pods come in a variety of finishes and sizes to match any themed bathroom, so you definitely wouldn't miss out on that front. On top of this, our shower pod's "fit and forget" design means that, without any drama, our showers will be there for years and years without any issues on your part. Things like this are great to mention when trying to sell a house, and a great thing for the client to know in general.
A Final Word
NHBC coverage can seem complicated on the surface, but truly it isn't. It's something that is extremely worth your time looking into, in order to know how to avoid common problems after your internal fixture coverage runs out. If you're a builder, you're probably already aware of NHBC. However, you may not have been aware of some of the stipulations and things that can be done to avoid the common issues.
Download Our Free Ebook!
If you're interested in learning more about shower pods, our team at Advanced Showers just released a free EBook called The Shower Pods Guide. Its aim is to teach you everything you need to know about shower pods, for free. It should help you make an informed decision on what type of shower pod you need for your property.
See More News